Dates to Remember!
Posted May 23, 2022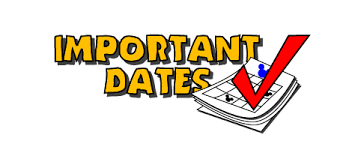 Dates to Remember
May 25 International Day – Community Resources providing
presentations and activities for students throughout the day
May 26 ECE Field Day at 9:00 a.m. on playground and field
May 27 Kindergarten, 1st, & 2nd Grade Field Day at 9:00 a.m.
3rd, 4th, and 5th Grade Field Day at 1:10 p.m.
May 30 No School – Memorial Day
June 1 5th Grade Continuation in the Auditorium at 10:00 a.m.
Early Release Day for all students at 1:00 p.m.
June 3 Last Day of School – Half-Day with dismissal at 12:00
Fechas importantes de fin de año para la Escuela Primaria Ellis
25 de mayo– Día Internacional- Suministro de recursos comunitarios,
presentaciones y actividades para los estudiantes durante todo
el dia
26 de mayo– Día de Campo, ECE a las 9:00 A.M. en el patio de recreo y
en la cancha.
27 de Mayo Kinder, 1er. y 2do. Grado Día de Campo a las 9:00 am
3ro,4to y 5to. Grado Dia de campo a la 1:10pm
30 de mayo No clases Día Conmemorativo
1 ° de Junio 5to Grado Ceremonia de Continuación en el Auditorio a las
10am.
Día de Salida Temprano para todos los estudiantes a la 1:00p.m.
3 de Junio Último día de escuela- Mediodía con salida a las 12:00
تواريخ مهمة لنهاية العام الدراسي لمدرسة أليس الإبتدائية
25 مايو اليوم الثقافي – الموارد المجتمعية ستقوم بتوفير عروض ونشاطات
للطلاب على مدار اليوم.
26 مايو اليوم الحقلي لطلاب الروضة عند الساعة 10:00 صباحا.
27 مايو اليوم الحقلي لطلاب الكندر جاردن,الصف الأول والثاني عند
الساعة 9:00 صباحا , أما بالنسبة لطلاب الصف الثالث, الرابع والخامس فسيكون اليوم الحقلي لهم عند الساعة 1:10 ظهرا.
30 مايو لا يوجد دوام مدرسي- اليوم التذكاري
1 يونيو حفل استمرارية الصف الخامس في المسرح المدرسي عند الساعة
10:00 صباحا.
انصراف مبكر لجميع طلاب أليس في ذلك اليوم عند الساعة
1:00 ظهرا.
3 يونيو آخر يوم دراسي – حيث سيتم الانصراف عند الساعة 12:00
ظهرا في ذلك اليوم.